If you're into NASCAR, you may have noticed a new sponsorship hitting the track recently–the Voyager race car! Being the first sponsor to pay their driver completely in cryptocurrency, Voyager is used to pushing the envelope–they are also the first purchaser of an MLB box suite using Bitcoin, and they're great friends of RoundlyX.
Voyager is a publicly-traded company who made waves in the crypto space over their commission-free buying capabilities, making them the perfect partner for RoundlyX. Their VGX token is more than an optimized exchange token, coming with plenty of loyalty benefits like higher compounding interest rates (5.75% base on Bitcoin (BTC)), cashback, and much more.
For reference, if your investment strategy was to purchase just $11 of VGX biweekly (the roundup threshold for VGX on RoundlyX), starting on July 6, 2020, you would have turned $297 of cash savings into $2,851. This is a profit of 860%!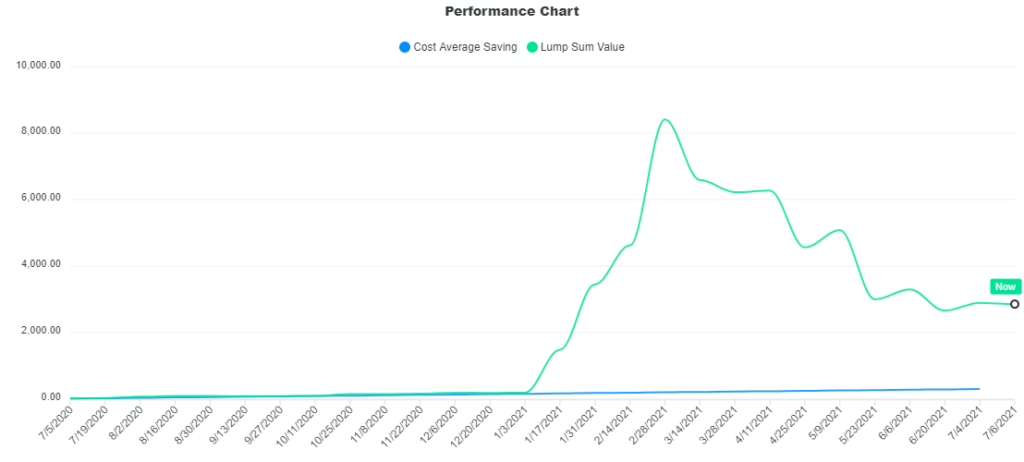 While the market has dipped substantially in the past few months, your regular dollar-cost averaging of VGX with RoundlyX easily outperforms expectations and safely builds wealth with little effort from you. You can expect plenty more growth from the Voyager team in the coming months–they're always building and improving and are in crypto for the long term.
So how can you round up into Voyager's VGX token with RoundlyX? We're glad you asked! Purchasing digital assets with RoundlyX is as easy as setting it and forgetting it.
How to Round Up into VGX on RoundlyX
If you have yet to set up an account with RoundlyX, head on over to our walkthrough post here. Once your account is set up, make sure you've connected your Voyager account. You can use code ROUNDLYX19 when you sign up for Voyager to get $25 of free Bitcoin.
If you already have a Voyager account then sign up to RoundlyX with code VOYAGER to get $4 in BTC after your first roundup.
Pull up your RoundlyX Dashboard, and scroll down to the exchanges section. You'll see two boxes: Current Investment Asset and Roundup Source. Click Selected Asset and choose VGX. It should look like this: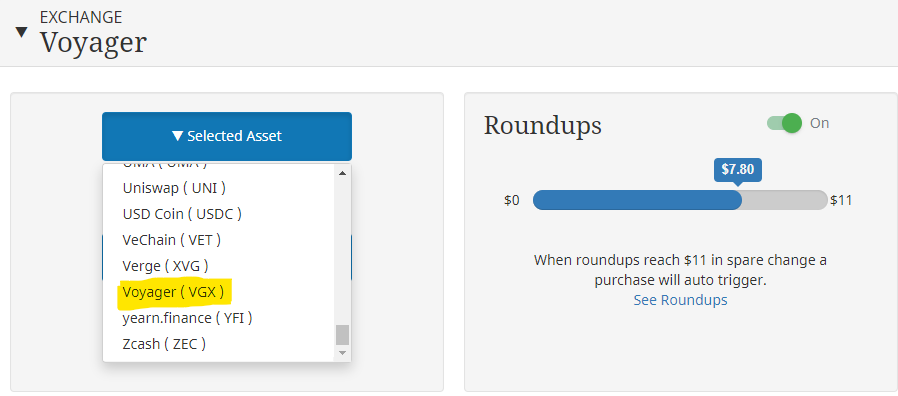 You're now dollar-cost averaging into VGX using RoundlyX. You can keep track of your roundup progress on your RoundlyX Dashboard.
The best time to start your dollar-cost averaging VGX strategy is during a brief market downturn…so what are you waiting for? Start rounding up into VGX today!
---
RoundlyX will never ask for any account credentials via support, email, or social media.
RoundlyX Inc. does not provide investment advice. All investment strategies and investments involve risk of loss. Nothing contained in this website should be construed as investment advice. Any reference to an investment's past or potential performance is not, and should not be construed as, a recommendation or as a guarantee of any specific outcome or profit.