RoundlyX is extremely excited to announce that we are integrating with Prizeout to allow all our users to round up and optimize their spending with their favorite brands.
Are you tired of constantly adding funds to your Starbucks or UberEats credit? Suffer no longer! Let RoundlyX and Prizeout do all the work for you, and optimize that spending power with regular discounts! You can get more out of your spare change roundups with Prizeout discounts – for instance, a $25 AirBnB roundup with a 4% boost earns you $26 of credit!
Connecting Prizeout to your RoundlyX Dashboard is simple and quick. Just follow these quick steps:
First, log in to your RoundlyX Dashboard (if you don't have a RoundlyX account yet, check out our "Getting Started" walkthrough here). Click "Connections" and then scroll down until you see the "Prizeout" card. Click "Connect."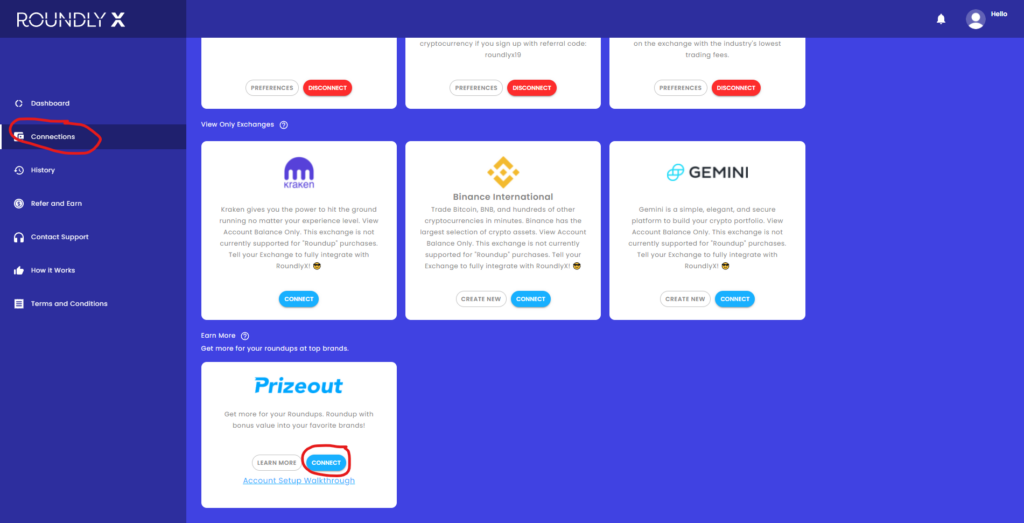 When you click on "Connect" you will be redirected to RoundlyX's unique Prizeout landing page. Select the brand you'd like to roundup into (like Starbucks, or Fanatics) and click "Select."
Next, you'll need to quickly create an account with Prizeout. This process will be similar to connecting other services to RoundlyX. Just sign up with your preferred email address, and then use Plaid to connect the bank account or card with which you'd like to round up. Follow the signup prompts and be certain to select a brand and add a funding source inside Prizeout.
Once you've finished the signup process, click on the "select Gift Card" button, and choose the gift card into which you'd like to round up. Once selected, you'll be prompted to click the blue "Return to RoundlyX" button to return to your Dashboard.
Remember – when you see a blue Prizeout tag on a gift card, it means that you're getting a discount. This is what we mean by "optimizing purchasing power" – rounding up into gift cards at a discount means less money in, more money to spend!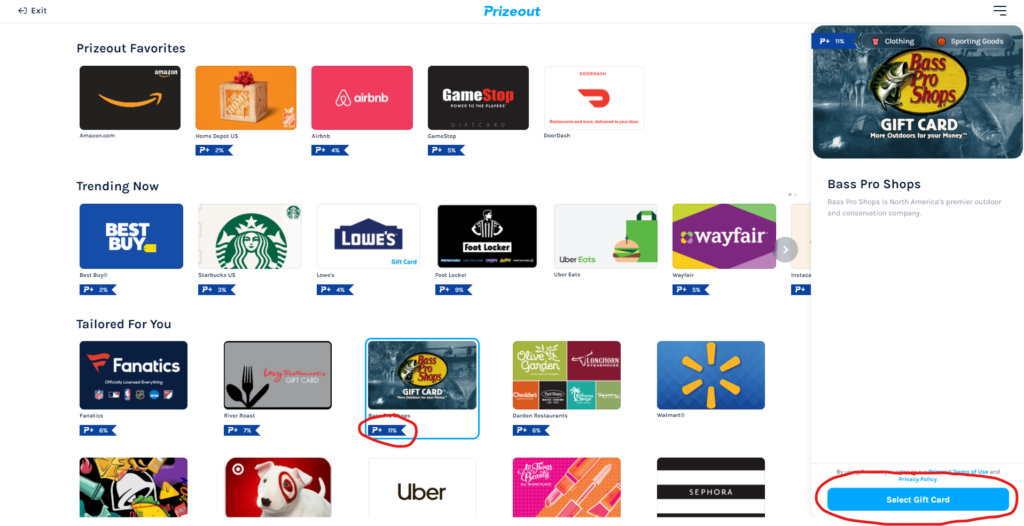 Congrats! You're now rounding up into your favorite brand. You can keep track of your roundups on the progress bar on your dashboard. The roundup threshold for Prizeout is just $25, and you can schedule recurring buys for your favorite brands too, right on your RoundlyX Dashboard.
After you accumulate $25 in spare change and complete the roundup into your selected brand, Prizeout will send you your spending credits via email, and you can manage your settings by clicking "View Prizeout Account" from your RoundlyX dashboard.