Thanks for your interest in RoundlyX! We're excited to assist you on your cryptocurrency dollar-cost averaging journey. Below are some walkthroughs, helpful tips, and FAQs that will help make your journey a smooth one.
If you still have questions or concerns after browsing through these resources, feel free to submit a support ticket at hello[at]roundlyx[dot]com!
Getting Started
If you're ready to set up your RoundlyX account for the first time, head on over to www.roundlyx.com/accounts/signup/. You should see a standard signup window.
Note: RoundlyX is currently only available for US users. We plan on expanding to the EU and Canada later in 2021. If you're interested in beta testing when we move into your country, DM us on Twitter to let us know!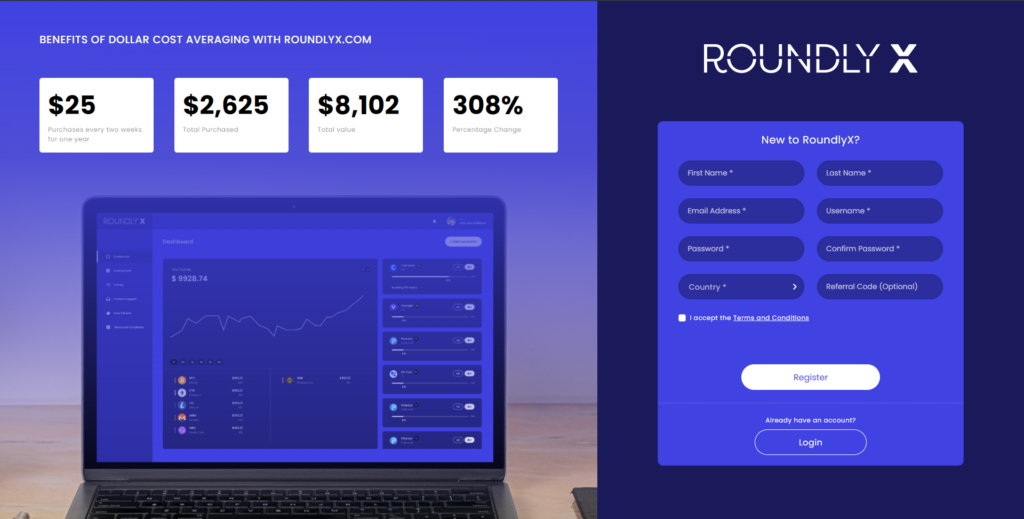 You'll have the option to input a referral code at the bottom right of this page. If a friend is referring you, they can find this code at the bottom of their RoundlyX Dashboard. It should look something like "Purp-DFBE47".
After filling in the required information, agreeing to the Terms and Conditions hit the "register" button. You'll be directed to your RoundlyX Dashboard, and you will receive an email asking you to confirm your email address. Your Dashboard should look like this:
Next, you will be prompted to link your cryptocurrency exchange and bank accounts to begin accumulating roundups. Like many other platforms, RoundlyX uses Plaid to easily and securely connect all your accounts in one place. Click on the "Proceed" button under "Connect Account" to get started.
Follow the prompts from Plaid to first connect your fiat bank account of choice.
Once you've finalized connecting your bank with RoundlyX, you will see a success notification, followed by a prompt to accept terms and conditions, and a final connection to your bank account for the RoundlyX subscription ($1/month following your initial 30 day free trial).
After accepting the Terms and Conditions and the Privacy Policy here, you'll see a success notification under the subscription tab, and the Connect Exchange tab will illuminate. Now, you can add cryptocurrency exchange accounts, customize your settings, and more.
Adding Exchange Accounts
Now that we have your primary fiat bank accounts connected, we need to connect to the cryptocurrency exchange accounts you'd like to use with RoundlyX. Note: you can add or remove fiat accounts at any time under "Connections" and then by clicking "Roundup Sources."
On the far right of your Dashboard, you'll see the "Connect Exchange" section. Choose which exchange you'd like to connect with first by selecting the "connect" button.
If you have an existing account with any of these exchanges, you can connect it to your RoundlyX Dashboard using the "Connect" button. If you would like to create a new account with any of these exchanges, use the following links or find the "create account" button under "Connections" on your Dashboard.
Create an account with Coinbase
Note: these links are referral links, and both you and RoundlyX will receive a small amount of cryptocurrency in exchange for using them or the "create account" button.
---
If you click on "Connections" on your Dashboard, you will see "View Only Exchanges" listed below our active roundup exchanges. These exchanges are not currently available for roundups but will display your portfolio balance alongside your other roundup exchange accounts. This way, all your cryptocurrency data is easy to view in one location: your RoundlyX Dashboard.
If you would like your favorite exchange to integrate with RoundlyX roundups, let them know by tweeting at us and them! You can find us at twitter.com/roundlyx. We would be happy to have conversations with new partners and are always trying to grow to better serve our users.
Referral Link
On the left side of your Dashboard, you will see "Refer and Earn." Click it to find your own unique referral link. Get your friends using RoundlyX! We currently pay out $4 in Bitcoin for each successful referral, which means 3 referrals cover your subscription fees for a full year! We payout referrals mid-month each month, and we will reach out via your RoundlyX email address to ask for your Bitcoin address for payment.
That's it! You can keep track of your roundups on your Dashboard – you'll see a progress bar listed under each connected exchange, and you can check up on your roundup progress under the "History" tab on the left hand side of your Dashboard.
If you need help, have a question, or encounter an error, you can always click "Contact Support" on the left side of your Dashboard.