TL;DR
RoundlyX and Okcoin users can roundup the spare change from their everyday purchases into MiamiCoin (MIA), and earn up to 430% APY in yield, paid out in Bitcoin!
The Stacks Foundation is changing the way cities think about their treasuries with CityCoins – the first of which is MiamiCoin.
Okcoin users will receive $6 in BTC after their first successful roundup, if they signup to RoundlyX with code OKCOIN!
What are CityCoins?
There is no question that Bitcoin is changing the way the world works. Local and national governments are embracing it faster than anyone ever expected:
In addition to these, a laundry list of other Bitcoin-positive laws have passed in countries like Cuba, Germany, and Panama, to name a few. But what about the US?
Without a doubt, there are several states and cities in the US that have made a name for themselves for being pro-Bitcoin: Wyoming, Austin, and Cool Springs have all made big moves in the past few months, but none of them have enjoyed the same success as the city of Miami, led by Mayor Francis Suarez.
The success of Miami in attracting investors, startups, and companies has been remarkable and has led to excitement for a new innovative use case that leverages Web3 as a tool for civic engagement: CityCoins. CityCoins are programmable, meaning anyone can build dApps and tools to better their city. CityCoins can generate rewards for its holders and the city treasury, meaning anyone has the opportunity to earn crypto while supporting their favorite cities.
According to the CityCoins website, "CityCoins are mined by forwarding STX (the native Stacks token) into a CityCoins smart contract on the Stacks protocol. The winner of each block reward is selected randomly, weighted by the total STX spent. CityCoins are claimed by the winning miner and can then be stacked to earn returns in STX and BTC."
Practically, this means that earning stacking rewards through CityCoins will:
Grow a treasury the city can access
Program applications using the token as fuel
Support innovative and crypto-friendly cities
In the long term, unlock new capabilities for governance
The amazing part of this whole project? CityCoins is built on Stacks, a protocol for smart contracts that is built on top of Bitcoin! So where does Miami and Mayor Suarez come in? Through MiamiCoin (MIA), the first CityCoin, which is available now on OkCoin.
So What is MiamiCoin?
Launched on August 25th of 2021, Okcoin's blog describes it like this: "MiamiCoin (MIA) is the first-ever city-based token and is available on Okcoin. Built by the CityCoins community on top of the Stacks blockchain, it allows holders to:
Earn stacking rewards
Support the city of Miami
Encourage innovation and crypto-friendly policies in Miami
Build new community tools
MiamiCoin hodlers can earn up to 430% APY on MIA by using Okcoin's Earn platform, and because CityCoins is built on the Stacks protocol, rewards are paid out in STX or Bitcoin!
Fox Business put it this way:
"For every MiamiCoin that people mine (or create) using a base cryptocurrency called Stacks, which has its own token, Miami gets funding that elected leaders can use to improve quality of life for city residents."
MiamiCoin has generated over $16M at the time of writing for the City of Miami, and that number continues to grow. Mayor Suarez has said he is exploring using these funds to bolster Miami's affordable housing and to continue making Miami a tech startup hub and destination for the crypto community.
Okcoin is committed to supporting the City of Miami in a variety of ways too, from opening a new office there and hiring 100 new staff members to fill that office, to sponsoring Florida's largest hackathon, ShellHacks.
Can I Round Up into MiamiCoin with RoundlyX?
Yes, you can! RoundlyX is the ONLY platform that has partnered with Okcoin to allow you to round up your everyday purchases to the nearest dollar and then uses that spare change to purchase MiamiCoin. For the first time ever, you can directly support and benefit from the success of a city through cryptocurrency! As always, it's as easy as "setting and forgetting."
Here's how it works:
If you haven't set up an account with RoundlyX yet, head on over to our walkthrough post here. Once your account is set up, make sure you've connected your Okcoin account. Use the links provided when you sign up to get a crypto bonus!
Back on your RoundlyX Dashboard, select the "Connections" section, and then click "edit preference" on the Okcoin box. There, you should see a dropdown box labeled "Current Purchase Asset." Click it, and select "MiamiCoin." It should look like this: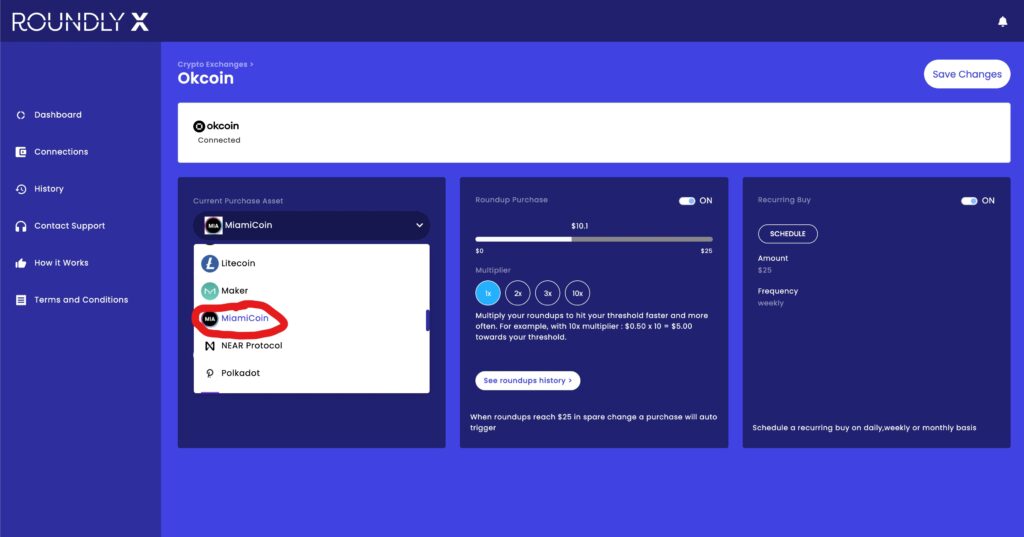 When you've accumulated enough spare change roundups to hit a certain threshold, a MiamiCoin purchase is made and held safely inside your Okcoin account/wallet.
You're now dollar-cost averaging into MIA using RoundlyX! You can keep track of your roundup progress on your RoundlyX Dashboard, and you can view your interest stats in your Okcoin account.
Which CityCoin do you think we'll see next? Austin? Cool Springs? Perhaps your city? Tweet at us @RoundlyX, @Okcoin, and @minecitycoins on Twitter, and let us know! Your hometown could be the next to benefit from Bitcoin rewards powered by Stacks!