Do you have a cause that you care about?
Is there "that one" nonprofit, charity, school, or faith-based organization that is doing good work you'd like to support? Do you wish you could do more? Now you can! Say goodbye to roundups only at the register and hello to the easiest way to support your favorite charity.
The RoundlyX App now allows you to donate to your favorite cause every time you make a purchase. We're really turning Spare Change into Life Change!
If you DON'T have a favorite nonprofit to support, our new roundups integration comes with over 1,500 charity partners for as many different causes as you can imagine. You're sure to find a nonprofit that aligns with your interests. And if you'd like to donate cryptocurrency to several similarly focused nonprofits, you can roundup into an "Impact Index Fund" for a group of organizations supporting similar causes such as: Ukraine, Crypto Adoption, Health, Liberty & Freedom, Environment, First Responders, and many more.
Rounding up your everyday purchases with the RoundlyX app has never been easier or come with as many options. Now, in addition to rounding up into your favorite cryptocurrency, you can simultaneously tax-loss harvest and protect against capital gains with RoundlyX by rounding up into charities.
Download the app on Google Play or the Apple App Store today to start making a difference! Getting set up is quick and easy.
Go to RoundlyX.com/giving/ and start the signup process. Then, connect your credit or debit card and select your charity preferences.
Click "save" and you're ready to start automatically donating! Every time you make a purchase, RoundlyX will automatically donate the spare change from your purchase to the charity of your choice.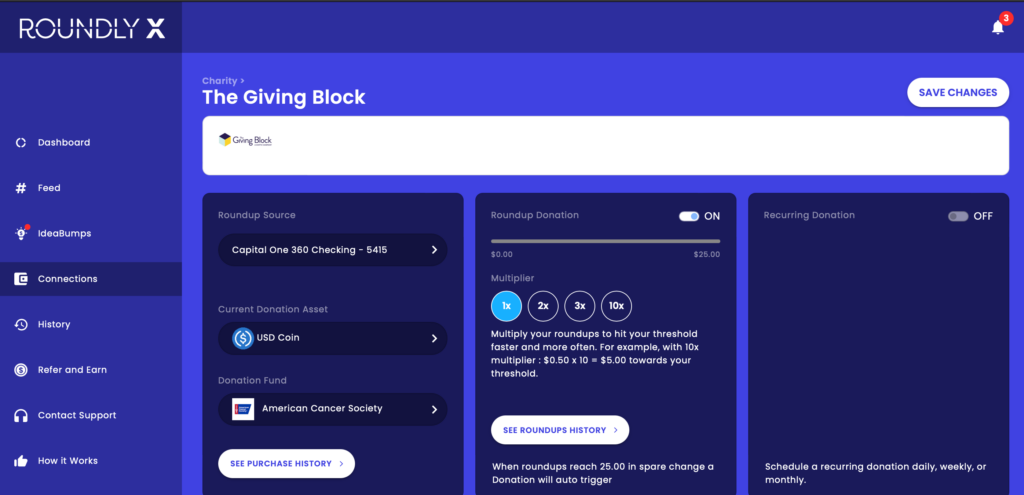 For example, let's say you buy a cup of coffee for $3.50. RoundlyX will automatically roundup that purchase to $4.00 and will donate $0.50 to the charity you've selected. It's that easy! And it doesn't stop there – you can also set up daily, weekly, or monthly recurring donations so that you can make an even bigger impact.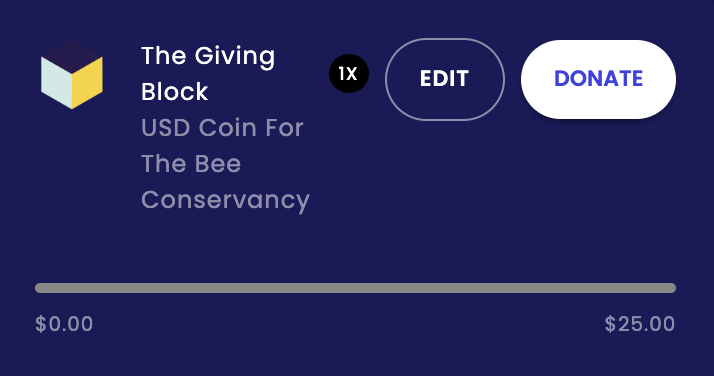 The RoundlyX App is super-powered to help you save for your future, budget for today, & donate to causes you care about.
So what are you waiting for? Download the RoundlyX App today and start making a difference!
Are you a leader at a nonprofit? Would you like to unlock the power of roundups for your cause? The RoundlyX team would love to help you get started! Just send us an email to partnerships@roundlyx.com and we will get your organization started rounding up!
You're one email away from having your own organization's dedicated Roundup feature…for free!