This is a special guest post by @DJCrypto_, of the VGXHeroes. DJ recently sat down with RoundlyX to film an exclusive setup video on his vlog. You can find the full recording here.The opinion of the author may not reflect the views of RoundlyX, and nothing herein should be construed as financial advice.
Figuring out an investment strategy for cryptocurrency can be difficult. As a proponent of dollar-cost averaging (DCA), I am always looking for ways to establish a disciplined routine of investing in digital assets automatically instead of impulsively. I believe I found the best option, RoundlyX.
Basically, RoundlyX is "The Acorns of Crypto" – the same methods are used to utilize my spending habits by rounding up each purchase to the nearest dollar and investing that spare change into my favorite digital asset.
I have used Acorns in the past and quickly became disinterested. Investing in stocks, to me, was either too cumbersome to be involved with or too boring to follow. I wanted to invest in companies I like and use personally, and I'm most interested in digital asset-based companies.
RoundlyX allows me to invest my spare change into the cryptocurrencies of my choice across multiple platforms including Coinbase, Okcoin, and Voyager. This is where RoundlyX sticks for me. I am an avid Voyager user and have invested in many of the 60+ cryptocurrencies they have listed. My favorite token, $VGX, is the native token on the platform, and helping to build a grassroots community around this token and platform called #VGXheroes.
The #VGXheroes community is for anyone who holds any amount of $VGX tokens and wants to be part of a concerted effort of fighting FUD (fear, uncertainty, doubt), contributing to community governance, helping with customer support, and potentially NFT and merchandise opportunities. We have found with this community, which is now 350 strong in two short months, that brand loyalty transcends the initial purpose of the group. VGXHeroes lookout for and back other VGXHeroes!
We recently added RoundlyX to VGXHeroes because they have made it easy for us to buy our favorite tokens on our favorite app in a consistent and disciplined manner. RoundlyX chose the XMen character "Multiple-Man" which symbolizes that RoundlyX can deliver across multiple platforms and many different crypto assets. This type of engagement in the community has built very strong relationships of loyalty and has made investing more fun for everyone involved!
My constant deposits into crypto are with companies that I not only choose fully, but that I also endorse, use, and interact with. The cryptocurrency space is different from equities to me because of the level of engagement with those who are running these projects. I do not see myself ending this type of DCA into crypto anytime soon, and I believe RoundlyX has created something special that beginner and advanced cryptocurrency users alike can utilize.
The setup for me was simple. Creating an account on RoundlyX.com can be done directly by going to their website or using any referral (shameless plug for my RoundlyX referral code: DJCr-1FC72B). I entered the usual personal information and was able to easily connect to my bank account, via Plaid, and to Voyager, my roundup exchange of choice.
At first, I was concerned as to which crypto I would be able to round up into, but to my surprise, I am able to round up into every single asset available on the Voyager platform. For obvious reasons, I decided to make $VGX my roundup asset of choice. In the future, I may use RoundlyX to diversify into more assets such as $ADA, $ETH, and other cryptocurrencies I like. RoundlyX has a multiplier feature available too that I may utilize in the future to increase the speed of roundups, and Voyager's roundup threshold is just $11, which is amazing!
To help visualize the power of dollar-cost averaging with RoundlyX, check out this chart of what DCAing into $VGX would look like, had I been doing this for the past year: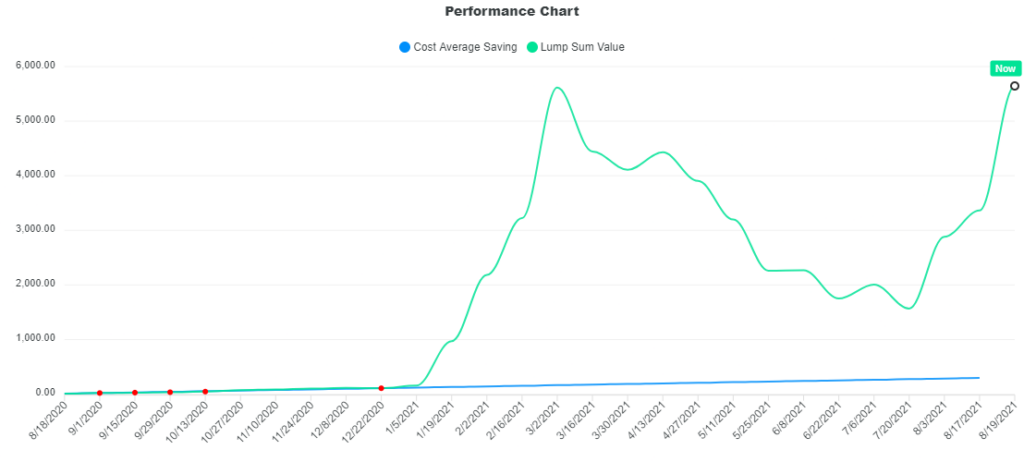 If I had rounded up $11 of VGX biweekly using RoundlyX, starting on 8/19/20, I would have turned $297 into $5,644! That's a gain of 1,800%, JUST from spare change dollar-cost averaging.
Altogether I am very pleased to have found RoundlyX. It helps me accomplish what I wish I was disciplined enough to do on my own. The automatic rounding up and purchasing into digital assets of my choice with companies and projects I fully endorse makes RoundlyX enjoyable, easy, and gratifying.
I look forward to seeing the purchase go through at times like 3AM for example while I'm asleep. I will not use other services because this one is loyal to Voyager, my favorite crypto platform. The ease of setup was short and simple – just "set it and forget it."
I hope you found this helpful in some way and perhaps it may give you confidence in setting up automatics investments for yourself. As Rob with Digital Asset News always says, "it's not about TIMING the market, it's about TIME IN the market."
---
RoundlyX will never ask for any account credentials via support, email, or social media.
RoundlyX Inc. does not provide investment advice. All investment strategies and investments involve risk of loss. Nothing contained in this website should be construed as investment advice. Any reference to an investment's past or potential performance is not, and should not be construed as, a recommendation or as a guarantee of any specific outcome or profit.